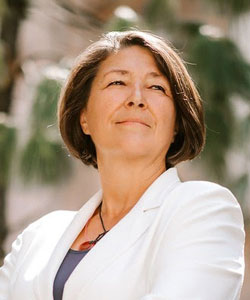 Violeta Bulc is the Founder and Curator of Ecocivilisation, an initiative that seeks to create an eco-friendly earth and spread technology, curiosity, and greatness across the universe. The Ecocivilisation movement was named one of the Top 100 Projects for the Future of the World by the Women World Economic Forum.
Violeta is the former European Commissioner for Transport, the former Deputy Prime Minister of the Republic of Slovenia, and a current #G100 Global Chair for the Women World Economic Forum.
Here's a glimpse of what you'll learn:
Violeta Bulc talks about her love of travel — and her goal to see the earth from space one day
How Violeta's career in computer science led her to California
Why Violeta decided to move back to Slovenia, and how she built a career as an entrepreneur
The most important element to embrace when creating a valuable product or service: innovation
Some of the lessons Violeta learned while building her own company
How Violeta prioritized a culture of innovation as a leader and learned to feed her creative mind
The power of trusting your intuition
Why Violeta decided to enter the political sphere — and her takeaways after working for the European Union
The exciting projects that Violeta has on the horizon
In this episode…
Are you in a creative rut? Do you want to learn how to be more inventive and trust your gut as an entrepreneur, employee, or leader?
Violeta Bulc has entered into — and succeeded in — many different fields: from computer science, to entrepreneurship, to politics. With decades of priceless experience under her belt, Violeta can identify the key elements that have helped her thrive in every endeavor: innovation, intuition, and investigation. According to Violeta, if you prioritize constant creation, listen to your instincts, and celebrate curiosity at every turn, the entire world is at your fingertips. So, how can you begin to embrace these tenets of success and live your best life today?
In this episode of Next Wave Leadership, Violeta Bulc, the Founder and Curator of Ecocivilisation, sits down with Dov Pollack to discuss her storied personal and professional journey. Listen in as Violeta talks about working as a computer scientist in Silicon Valley, her biggest takeaways from starting her own company, and her unexpected — but amazing — political career. Stay tuned!
Resources Mentioned in this episode
Sponsor for this episode…
Founded by Dov Pollack, Next Wave Leadership is an executive coaching firm focused on helping CEOs, executives, and emerging leaders create great places to work by creating great places to grow.
If you are a leader who is looking to differentiate your voice, own your story, and choose your path with purpose. Next Wave Leadership can help you get the results you want and need.
To know more about what we can do to help you and your team grow, visit our website at NextWaveLeadership.com or send us an email at [email protected].