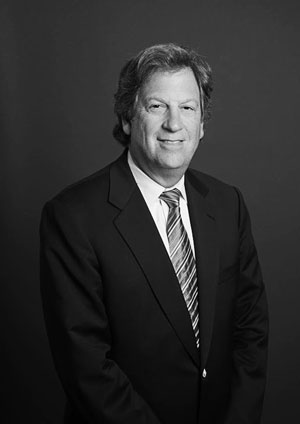 Dr. Bruce Gewertz is the Surgeon-in-Chief, Chair of the Department of Surgery, Vice Dean of Academic Affairs, and Vice President of Interventional Services at Cedars-Sinai Health System in Los Angeles. Under his leadership at Cedars-Sinai, Dr. Gewertz has added to the Department of Surgery's academic stature by targeted recruitments across all specialties, more than doubling clinical revenues and expanding the clinical faculty by more than 50%. Most recently, he led a $4 million multi-institutional research project integrating human performance and technology funded by the Department of Defense.
Before Cedars-Sinai, Dr. Gewertz was on the faculty at the University of Chicago for 25 years and served as the Dallas B. Phemister Professor and Chair of the Department of Surgery from 1992 until 2006. Dr. Gewertz is the author of more than 200 original articles, books, and chapters and has won multiple awards, including Outstanding Science Alumnus of Pennsylvania State University in 2003 and Alumni Fellow in 2009.
Here's a glimpse of what you'll learn:
Dr. Bruce Gewertz talks about patient expectations and how the role of a physician has evolved in recent years
As a physician, how do you develop your team to provide patients with the best care possible?
Dr. Gewertz shares his thoughts about the future of healthcare
The professional development and coaching opportunities available to leaders in medicine 
The importance of mentorship in a healthcare setting
How Dr. Gewertz's parents influenced his leadership style
In this episode…
Doctors have long been seen as the ultimate authority when it comes to a patient's care. However, as medicine continues to advance, the healthcare system has become increasingly focused on the importance of a team-oriented organization. Dr. Bruce Gewertz, the Surgeon-in-Chief and Chair of the Department of Surgery at Cedars-Sinai, believes that what makes a physician successful isn't necessarily how authoritative they are, but their ability to bring out the best in their team.
With Dov, Dr. Gewertz discusses the modern patient experience and how a physician's role as a leader has changed over time. He addresses the challenges of building a team-oriented culture in the healthcare system. Additionally, you'll hear about the importance of taking pride in your team and the common values that team members should share.
Join Dr. Bruce Gewertz, the Surgeon-in-Chief and Chair of the Department of Surgery at Cedars-Sinai in Los Angeles, and Dov Pollack in this episode of the Next Wave Leadership Podcast. Dr. Gewertz provides his insights into leadership and how a physician develops their team. He also talks about focusing on group success versus individual success, the value of building relationships with the people you work with, and how to deal with failure.
Resources Mentioned in this episode
Sponsor for this episode…
This episode is brought to you by Next Wave Leadership.
Founded by Dov Pollack, Next Wave Leadership is an executive coaching firm focused on helping CEOs, executives and emerging leaders overcome their limiting beliefs which is an essential part of creating a growth mindset culture.
If you are looking to grow as a leader and create a vibrant and innovative culture in your organization, Next Wave Leadership can help you get the results you want and need.
To know more about what we can do to help you and your team grow, visit our website at NextWaveLeadership.com or send us an email at [email protected].