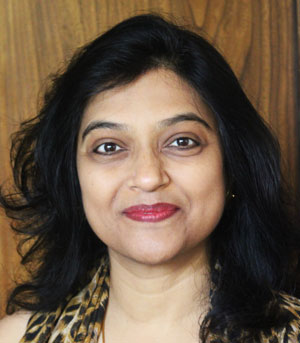 Nilima Bhat is a visionary, speaker, co-author, facilitator, and coach in the fields of Personal Mastery, Leadership, Gender Equality, and Wellbeing. She is the Founder and Director of Roots & Wings Consulting Services and the Co-Author of both My Cancer is Me: The Journey from Illness to Wholeness and Shakti Leadership: Embracing Feminine and Masculine Power in Business.
Nilima is also a Member of the Advisory Board at MixR, a unique platform that helps employees create community in the workplace. She is an expert in Indian wisdom and wellness traditions, a trained dancer, and a certified Sivananda teacher.
Here's a glimpse of what you'll learn:
Nilima Bhat talks about Joseph Campbell and the transformative power of his "hero's journey" theory 
How Nilima reconnected with her spirituality and reconstructed her understanding of success and happiness
Dov talks about the impact Joseph Campbell had on his perception of purpose as a young professional
Recovering your identity and accessing your inner power as a leader
How Nilima defines wholeness in her book, Shakti Leadership: Embracing Feminine and Masculine Power in Business
The challenges women face in leadership positions–and how to embrace your own "heroine's journey"
The importance of flexibility in Nilima's Shakti Leadership model
How to discover your purpose and earn power as an effective leader
Three ways that we tend to give up our power according to the Enneagram Triads: head, heart, and gut
Nilima's perspective on the future of female leadership
In this episode…
What constitutes a powerful leader? There are many ways to exert power over other people, but how do you do so in a way that is respectful, effective, and sustainable?
According to Nilima Bhat, true power as a leader can't be bought, forced, or bluffed—it has to be earned. And, ultimately, the way to earn power is to first identify and utilize your own internal power, which is no easy task. Thankfully, Nilima is here today to share her storied experience and proven strategies for becoming a powerful leader by utilizing your spiritual energy. Want to learn how to lead effectively and sustainably?
In this episode of the Next Wave Leadership Podcast, Nilima Bhat, the Founder and Director of Roots & Wings Consulting Services, sits down with host Dov Pollack to discuss her transformational Shakti Leadership model. Listen in as Nilima and Dov talk about the journey for the hero and heroine, how to access your inner power through spirituality, and the best-kept secrets to discovering your purpose and earning power as a leader. Stay tuned!
Resources Mentioned in this episode
Sponsor for this episode…
Founded by Dov Pollack, Next Wave Leadership is an executive coaching firm focused on helping CEOs, executives and emerging leaders create great places to work by creating great places to grow.
If you are a leader who is looking to differentiate your voice, own your story, and choose your path with purpose.
Next Wave Leadership can help you get the results you want and need.
To know more about what we can do to help you and your team grow, visit our website at NextWaveLeadership.com or send us an email at [email protected].