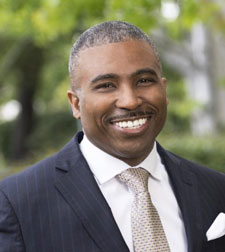 Marvin Williams is the Senior Vice President of Property Management at MidPen Housing. He is in charge of MidPen Housing's largest affiliate organization, MidPen Property Management Corporation, where he leads more than 250 staff members and oversees more than 7,200 rental homes across 10 San Francisco Bay Area counties.
Before joining MidPen Housing in 2018, Marvin had over 18 years of property management experience and expertise. Marvin is a proud U.S. Army veteran with 8 years of military service under his belt. In his free time, Marvin loves to work out at the gym or travel to a new, exciting location.
Here's a glimpse of what you'll learn:
Marvin Williams talks about working in the Bay Area's (notoriously complicated) housing market
How Marvin's childhood developed his current knack for humble, service-driven leadership
The keys to creating a close-knit company culture: transparency, compassion, and maximizing every worker's potential
Marvin identifies the meaningful mentors and father figures who taught him how to be an effective leader
The importance of cultivating vision—not just sight—as a leader
How can you effectively and persuasively communicate your vision to your team?
Why Marvin enjoys collaborating in leadership roles
Marvin discusses how his unique perspective and experience allows him to positively impact others
In this episode…
Do you have a clear vision for the future of your company's success—but have difficulty communicating it to your colleagues and employees? Are you looking for strategies to help you make your vision not just communicable, but a tangible reality?
Service-oriented leader Marvin Williams is truly a visionary—but, like many others, he often struggles to help his team see his dreams. After a difficult adolescence, an eight-year stint in the U.S. Army, and a position as SVP of Property Management at MidPen Housing, Marvin truly understands the importance of cultivating a collaborative vision as a leader. And, that's why he's here today—to share the tried-and-true strategies he's developed for creating and effectively communicating the revolutionary visions that could transform your company forever.
In this episode of Next Wave Leadership, Marvin Williams, Senior Vice President of Property Management at MidPen Housing, sits down with Dov Pollack to discuss cultivating vision, humility, and generosity as a leader. Listen in as Marvin talks about what he learned from his childhood, the secrets to cultivating a warm—yet effective—company culture, and the value of constructing vision, not just sight, as a leader. Stay tuned!
Resources Mentioned in this episode
Sponsor for this episode…
Founded by Dov Pollack, Next Wave Leadership is an executive coaching firm focused on helping CEOs, executives and emerging leaders create great places to work by creating great places to grow.
If you are a leader who is looking to differentiate your voice, own your story, and choose your path with purpose.
Next Wave Leadership can help you get the results you want and need.
To know more about what we can do to help you and your team grow, visit our website at NextWaveLeadership.com or send us an email at [email protected].