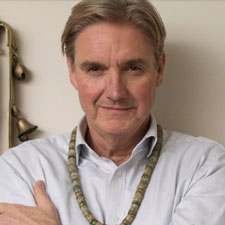 Lawrence Ford is an entrepreneur, author, financial advisor, consultant, coach, speaker, and spiritual leader. He is the Founder and CEO of Conscious Capital Wealth Management, a financial advisory group that is dedicated to helping clients align their dreams and values with their finances. Lawrence is also the Founder and Chairman of Future Capital, an organization that is focused on fostering a fully operational and conscious global economy.
Outside of his role as a founder, Lawrence is a Fellow of the World Academy of Art and Science, a Member of Nexus Global, and the author of The Secrets of the Seasons.
Here's a glimpse of what you'll learn:
Lawrence Ford reveals how—and why—his company Future Capital knits consciousness and capital together
What is Lawrence's theory of "seasons," and how can it help you live a fuller life?
Dov and Lawrence discuss the dangers of chasing after someone else's dream instead of your own
The importance of empowering the people around you to achieve their maximum potential
Lawrence explains the concept of "hotspots" from his book, The Secrets of the Seasons
How Lawrence practices meditation and prioritizes long-term mindful habits
What reaching the "fourth season" feels like (hint: it's not all rainbows and butterflies!)
Lawrence's professional passion for transforming the world's perception of wealth
In this episode…
Let's cut to the chase: are you happy with your life right now? Do you feel satisfied and content with your job, habits, and goals, or do you find yourself daydreaming about eventually bursting with purpose?
According to Lawrence Ford, most people are asleep to their true purpose in life. As a result, we tend to lead distracted, discontented lives that barely scratch the surface of our maximum potential! So, what is the secret to getting in touch with your truest self and living an authentic existence? Lawrence might just have the life-changing answer you're looking for—but you have to press "play" to learn more.
In this episode of Next Wave Leadership, Lawrence Ford, renowned entrepreneur, author, and spiritual leader, sits down with Dov Pollack to discuss his real-life journey towards self-actualization—and how you can find an enlightened purpose, too! Listen in as Lawrence talks about his concept of life's "seasons," the importance of practicing consistent meditation, and some of the most transformative elements of his book, The Secrets of the Seasons: You're Here for a Reason. Stay tuned!
Resources Mentioned in this episode
Sponsor for this episode…
Founded by Dov Pollack, Next Wave Leadership is an executive coaching firm focused on helping CEOs, executives and emerging leaders create great places to work by creating great places to grow.
If you are a leader who is looking to differentiate your voice, own your story, and choose your path with purpose.
Next Wave Leadership can help you get the results you want and need.
To know more about what we can do to help you and your team grow, visit our website at NextWaveLeadership.com or send us an email at [email protected].