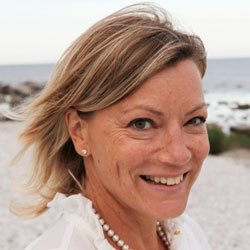 Eva Helén is the Founder and CEO of EQ Inspiration, an organization that inspires men in tech to promote women's advancement and equality in the industry. She is also a Board Director at Vasion, a software company that helps organizations digitize content and automate workflows. In addition to this, Eva is the author of the soon-to-be-published book Women in Tech — A Book for Guys.
In the past 20 years, Eva has co-founded, built, and sold two software companies, including Sanbolic, which was founded in 2000 and acquired by Citrix in 2015.
Here's a glimpse of what you'll learn:
Eva Helén talks about creating a conference on women in tech — for a male audience
Why is it important for men to support women in the tech industry?
Eva discusses growing up in Sweden and the culture shock that came with moving to Silicon Valley
What the ups and downs of entrepreneurship taught Eva about executive leadership
Eva's advice for female leaders: own it!
The hierarchy of personality profiles for male leaders — and how it can improve workplace diversity and inclusion
In this episode…
Do you want to create a more vibrant, equitable, diverse workplace? Are you looking for resources and strategies to help you and your company create a more female-friendly environment in the office?
According to experienced leader and diversity advocate Eva Helén, transformation is a team effort. In other words, men and women must work together to champion diversity in and out of the workplace if we hope to effect real, lasting change. Unfortunately, this is more difficult in some industries than others. In tech, it's often difficult for women to enter the industry — let alone attain a leadership position. However, this is exactly why leaders like Eva do what they do: to help both men and women band together to revolutionize historically male-dominated fields.
In this episode, Eva Helén, the Founder and CEO of EQ Inspiration, sits down with Dov Pollack to discuss the importance of men playing an active role in women's workplace empowerment. Listen in as Eva talks about helping men become more inclusive leaders, her journey from Sweden to Silicon Valley, and why owning your story as a female leader can be your true superpower. Stay tuned!
Resources Mentioned in this episode
Sponsor for this episode…
Founded by Dov Pollack, Next Wave Leadership is an executive coaching firm focused on helping CEOs, executives, and emerging leaders create great places to work by creating great places to grow.
If you are a leader who is looking to differentiate your voice, own your story, and choose your path with purpose. Next Wave Leadership can help you get the results you want and need.
To know more about what we can do to help you and your team grow, visit our website at NextWaveLeadership.com or send us an email at [email protected].