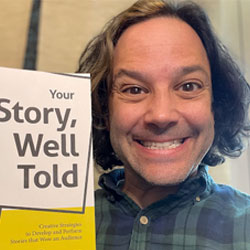 Corey Rosen is a writer, producer, creative director, and much more. He's led a diverse career of over 20 years in the entertainment industry, with experience in movies, television, and even theme parks. He has spent the past decade at Tippett Studio, where he currently works as their Creative Director and Vice President of Creative Marketing & Development. He is also the StorySLAM Host for the Moth, a nonprofit storytelling organization.
In addition to these roles, Corey is still a part of BATS Improv and the Treasurer for the Visual Effects Society. His book, Your Story, Well Told, dives into the creative strategies and processes that can take your story to the next level.
Here's a glimpse of what you'll learn:
How Corey Rosen launched so many different careers
Corey's upbringing and how it led him to his work at The Moth
The best ways to tell your story and develop your craft
Telling honest stories about your best moments
How improvisation can be an effective tool in business
Who are some storytellers that Corey admires?
Incorporating honest emotion into leadership
The biggest takeaway from Corey's book Your Story, Well Told
In this episode…
As a leader, storytelling is an overlooked tool. There are stories all around us where we least expect them, even in the world of business. Knowing how to present a story helps with communication, explaining your company's brand, or even marketing a product. The ability to captivate audiences and connect with others is important for effective leadership. However, it can be difficult to put these skills into practice.
For Corey Rosen, storytelling and improvisation are his specialties. He has worked in the entertainment industry for more than 20 years, developing his philosophies on stories and genuine inspiration. He leverages his expertise while coaching businesses, organizations, and schools on how to better communicate. His book, Your Story, Well Told, shares some of the wisdom he's earned over the years — and now, he's here to share his pearls with you, too.
On this episode of Next Wave Leadership, Dov Pollack is joined by Corey Rosen, writer, producer, creative director and Host of the Moth StorySLAM, to explain his idiosyncratic approach to storytelling and how it applies to leadership. They talk through the best ways to deliver your story, the common mistakes to avoid, and how to introduce improvisation to your leadership style. Corey goes through his dense career and what helped him get to where he is now. Stay tuned!
Resources Mentioned in this episode
Sponsor for this episode…
Founded by Dov Pollack, Next Wave Leadership is an executive coaching firm focused on helping CEOs, executives, and emerging leaders create great places to work by creating great places to grow.
If you are a leader who is looking to differentiate your voice, own your story, and choose your path with purpose. Next Wave Leadership can help you get the results you want and need.
To know more about what we can do to help you and your team grow, visit our website at NextWaveLeadership.com or send us an email at [email protected].