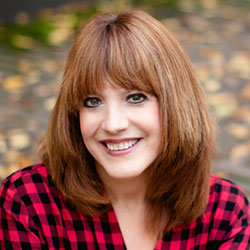 Andrea Heuston is the CEO and Creative Principal of Presentation Design and Strategic Communications at Artitudes Design, a full-service graphic design firm that delivers award-winning design solutions. Andrea also serves as a Board Member for Entrepreneurs' Organization.
Andrea is also the author of the best-selling book Stronger on the Other Side: The Power to Choose, and the host of the Lead Like A Woman podcast, a show that focuses on empowering women to empower others.
Here's a glimpse of what you'll learn:
Andrea Heuston talks about starting her podcast, Lead Like A Woman
How Andrea learned to embrace her uniquely feminine approach to leadership and business
The importance of practicing a fail-forward mindset as an entrepreneur 
Andrea talks about why women should focus on their superpowers — not their weaknesses
What inspired Andrea to write her new book, Stronger on the Other Side 
Andrea discusses her greatest strengths — and how they have propelled her personally and professionally
In this episode…
Let's face it: life is full of hardships. From lost opportunities, to less-than-favorable health diagnoses, to embarrassing workplace mistakes, difficulties and failures can make us feel beaten down and underqualified. But what if life didn't have to be this way?
Andrea Heuston has spent decades carving out her own path as a female executive, and she has one piece of life-changing advice to share: fail forward. Though it is so easy to feel discouraged or pessimistic when you encounter hurdles in life and business, Andrea has learned that failure equals power. When you begin to accept missteps, you can use them as a catalyst for growth and ambition — and this is what drives unprecedented success. So, how can you start embracing a fail-forward mindset and using your hardships to your advantage?
In this episode of Next Wave Leadership, Andrea Heuston, the CEO and Creative Principal of Presentation Design and Strategic Communications at Artitudes Design, sits down with Dov Pollack to discuss the value of embracing failure as a leader. Listen in as Andrea talks about the power of female leadership, the importance of celebrating your strengths instead of analyzing your weaknesses, and the inspiring stories behind her best-selling book and podcast. Stay tuned!
Resources Mentioned in this episode
Sponsor for this episode…
Founded by Dov Pollack, Next Wave Leadership is an executive coaching firm focused on helping CEOs, executives, and emerging leaders create great places to work by creating great places to grow.
If you are a leader who is looking to differentiate your voice, own your story, and choose your path with purpose. Next Wave Leadership can help you get the results you want and need.
To know more about what we can do to help you and your team grow, visit our website at NextWaveLeadership.com or send us an email at [email protected].