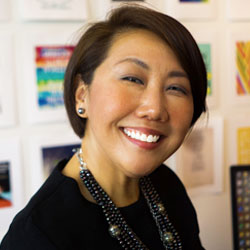 Soon Mee Kim is the Chief Diversity, Equity, and Inclusion Officer for the Omnicom Group and is a worldwide leader in marketing communications. She spent 14 years at Porter Novelli where she was a leader in their diversity and technology departments at different times. Her forte is found in uncovering and articulating why people should care about complex issues. Soon Mee is a proven leader and creative problem-solver, and she considers her favorite roles to be mentor, coach, and student.
Here's a glimpse of what you'll learn:
Why diversity, equity, and inclusion are here to stay
What growing up in Korean Wakanda did for Soon Mee Kim
The key to Soon Mee's approach to diversity in her career
How to address the diversity problems in businesses
Soon Mee's guiding concept of the year
How belonging fits into the goal of diversity
In this episode…
Leadership is often synonymous with power in the corporate world. Control is often sought out but is rarely given to the people who deserve it the most. While performance is expected, leaders can and should do more for their workplace culture. It's a delicate balance of power and love that is conducive to bring lasting change.
Soon Mee Kim has found power in her own voice, drawing from her lived experiences to help others find belonging in business. She works closely with the Omnicom Group to further diversity and inclusion for some of the world's leading brands. So how do you find that balance and transform your culture?
Dov Pollack sits down with Soon Mee Kim, Chief Diversity, Equity, and Inclusion Officer of the Omnicom Group, to discuss diversity in the workplace. They go through Soon Mee's childhood and what she took from growing up in what she calls "Korean Wakanda." They then touch on a host of topics such as the need for power and love, how to address diversity issues, and Soon Mee's guiding concept of the year. Hear it all on this episode of the Next Wave Leadership podcast.
Resources Mentioned in this episode
Sponsor for this episode…
Founded by Dov Pollack, Next Wave Leadership is an executive coaching firm focused on helping CEOs, executives, and emerging leaders to deepen their executive presence, differentiate their voice, and embrace the plot and promise of their story.
To know more about what we can do to help you grow as a leader, visit our website at NextWaveLeadership.com or send us an email at [email protected].