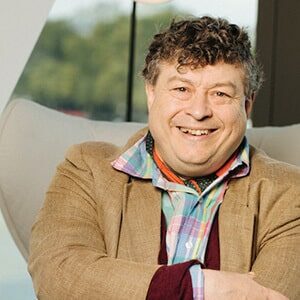 Rory Sutherland is the Vice Chairman of Ogilvy and co-founded a behavioral science practice within the agency. Ogilvy is a British advertising and consulting agency that has worked with industry titans, including Dove, Samsung, BP, and IBM.
Before founding Ogilvy Change, Rory was a copywriter and creative director at Ogilvy for over 20 years, having joined as a graduate trainee in 1988. He is the author of two books: The Wiki Man and the best-selling Alchemy, The Surprising Power of Ideas That Don't Make Sense.
Here's a glimpse of what you'll learn:
The problem with how we define problems
Balancing the prose and the poetry within organizations
How finding the creative solution is better than discovering the logical one
Rory Sutherland's personal story of a creative reversal
What Ogilvy offers their clients
Why AI should not be the primary decision maker
How Rory has raised his daughters
Looking at the complete picture of data
The difference between professionals today and those in the 50s
Why the magic of the world is taken for granted
In this episode…
Every leader is burdened with decision-making and problem-solving; they are the foundation of all organizational progress. However, it's the process of arriving at those decisions that matter. Much of modern culture is centered on immediate solutions, singular fixes, and tangible numbers. These are incomplete approaches that leave a great deal of potential on the table.
Rory Sutherland has built his storied career around the powerful and creative solutions that are overlooked. He works in behavioral sciences and helps clients with their unseen opportunities. This is an incredible opportunity, but one that's difficult to grasp at first. Rory shares insights into his process.
In this episode of Next Wave Leadership, Dov Pollack sits down with Rory Sutherland, the Vice Chairman at Ogilvy, to discuss creative solutions and finding the actual issues. They talk about how companies miss the bigger picture, creative reversals, and coming up with better fixes. The two also touch on AI and how times have changed.
Resources Mentioned in this episode
Sponsor for this episode…
Founded by Dov Pollack, Next Wave Leadership is an executive coaching firm focused on helping CEOs, executives, and emerging leaders to deepen their executive presence, differentiate their voice, and embrace the plot and promise of their story.
To know more about what we can do to help you grow as a leader, visit our website at NextWaveLeadership.com or send us an email at [email protected].