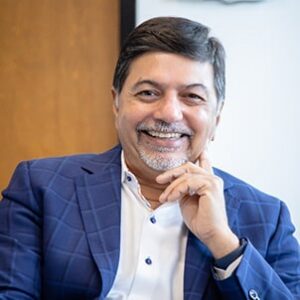 Raj Sisodia is the Co-founder and former Chairman of Conscious Capitalism, Inc., an organization set on elevating humanity through ethical business practices. He is a Professor and Chairman of the Conscious Enterprise Center at Tecnológico de Monterrey.
Raj has consulted for and taught executive programs at many companies, such as AT&T, Nokia, LG, Kraft Foods, Whole Foods Market, Sprint, Volvo, IBM, Walmart, and McDonalds. A prolific best-selling writer, he has written 16 books, including The Healing Organization, Conscious Capitalism, and Firms of Endearment, and has also written over 100 academic articles.
Here's a glimpse of what you'll learn:
The effects of the patriarchy on Raj Sisodia's family
How Raj dealt with being cut off
Raj's experience with marketing, engineering, and the US
Finding values in business
Raj's work toward growth and mending relationships
The cycle of victimhood 
Understanding the difference between a boss and a leader
Raj's relationship with his mother and what he learned
In this episode…
Everyone has experienced pain, no matter how severe or mild, and it often originates at an early age and plays a role in shaping us. The expression "hurt people hurt people" stems from the theory that we unwittingly pass on the difficulties and pain we've undergone. However, this doesn't absolve us from who we become or how we go through life.
For leaders, these personal struggles have more relevance to their careers than many would acknowledge. Thriving, respected leaders should be able to work through their issues for the sake of their families, businesses, and themselves. It is a complex process, so it helps to look toward people who have already started the healing process.
In this episode of Next Wave Leadership, Dov Pollack sits down with Raj Sisodia, the Co-founder and former Chairman of Conscious Capitalism, Inc., on growing through the struggles of life. They discuss Raj's family dynamic, his realization in life, and his purpose going forward into the future. They also discuss how to be a stronger leader and reevaluate the ethical concerns of the business world.
Resources Mentioned in this episode
Sponsor for this episode…
Founded by Dov Pollack, Next Wave Leadership is an executive coaching firm focused on helping CEOs, executives, and emerging leaders to deepen their executive presence, differentiate their voice, and embrace the plot and promise of their story.
To know more about what we can do to help you grow as a leader, visit our website at NextWaveLeadership.com or send us an email at [email protected].