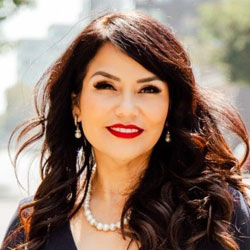 Dr. Yasmin Davidds is an organizational psychologist, executive, leadership development expert, and the CEO of the Dr. Yasmin Davidds Leadership Institute and the Multicultural Women Executive Leadership Foundation. She has trained and advised more than 2,000 leaders across over 200 companies, compiling that experience into her leadership programs. She has worked with companies like Microsoft, KARRASS, and Verizon.
Here's a glimpse of what you'll learn:
What it means to be graciously assertive
The realization that drove Dr. Yasmin Davidds' career
Why community is essential for mutual success
The experiences that led Dr. Davidds to write her first book
How Dr. Davidds started her leadership institute
What the institute does to shape and support minority leaders
Using vulnerability to build rapport in leadership
The importance of shaping your own narrative
Seeing what the future holds for Dr. Davidds and her institute
In this episode…
Any story of success is filled with hardships and challenges. For some, these trials are difficult but not overwhelming. For others, their lives are filled with trauma and punishing barriers, making it all the more incredible when they break through. These are the stories that truly inspire: when seemingly insurmountable odds are overcome.
Dr. Yasmin Davidds has come out the other side of her tribulations as a knowledgeable and successful leader. Now, she's dedicated herself to helping others overcome and grow as leaders, especially among women and the Latino community. Her institute utilizes several different programs and valuable lessons to guide its members. So what are the key ideas behind these programs?
In this episode of the Next Wave Leadership podcast, Dov Pollack speaks with Dr. Yasmin Davidds, the CEO of the Dr. Yasmin Davidds Leadership Institute and the Multicultural Women Executive Leadership Foundation, to talk about her experiences and insights. They talk about her difficult upbringing, the barriers she broke through, and how she continues to give back to others. They also discuss her institute and how it empowers women. Stay tuned to hear all of this and much more!
Resources Mentioned in this episode
Sponsor for this episode…
Founded by Dov Pollack, Next Wave Leadership is an executive coaching firm focused on helping CEOs, executives, and emerging leaders to deepen their executive presence, differentiate their voice, and embrace the plot and promise of their story.
To know more about what we can do to help you grow as a leader, visit our website at NextWaveLeadership.com or send us an email at [email protected].